Articles
Amerisolar napelemek
Az Amerisolar, Worldwide Energy and Manufacturing USA Co., Ltd., egy professzionális napelem gyártó cég, amely 24 éves tapasztalattal rendelkezik a gyártás és minőség-ellenőrzés területén.
1993 óta Amerisolar a műszaki tervezés, kivitelezés és karbantartás is a profil részére. Ügyfelei a világ minden tájáról megtalálhatóak.
Jelenlegi termelési kapacitása 1,2 GWp.
A termelés több országban folyik: többek között Európában, Taiwanon, Kínában.
Műszaki együttműködést folytat német és amerikai intézetekkel. Az Amerisolar modulokal tanúsítják ETL, TÜV, KTL, JET, JPEC, MCS, CEC CGC, CQC, ISO9001, ISO14001, OHSMS18001 és Kína "Golden Sun" standardek. Amerisolar modulokat már széles körben használják az USA-ban, Németországban, az Egyesült Királyságban, Franciaországban, Ausztráliában, Japánban, Olaszországban, Hollandiában, Kanadában, Dél-Korea, Görögország, Tajvan és sok más országban és régióban.
Amerisolar műszaki szolgáltatások közé  tartozik a műszaki tervezés, berendezések és intelligens napelemes berendezések karbantartása. A projekt által vezetett Amerisolar technikai csapat sok országban vesz részt a napenergia hasznosításában, valamint a globális környezetvédelemben.
Az Amerisolar csapat keményen dolgozik a napenergia technológiai fejlesztésén, napelem nagyobb hatékonyságán és naperőmű integrációkon.
Hiszünk "Innovációk hozzák létre jövőt" és hisszük abban, hogy az Amerisolar lesz az egyik úttörője a napenergia technológia és hű védelmezője a zöld bolygónak.
Az Amerisolar adatlapok letölthetőek itt:
Meet with Aventia
Aventia is the new strong player in the solar energy market and belongs to a Greek group of companies with headquarters in privately owned facilities in the outskirts of Athens and a branch in Amsterdam the Netherlands. Ιt was founded by a team of professionals with ex- perience and deep understanding of the solar energy industry, as well as an extensive track record on entrepreneurship.
Characterized by a strong business and ethical code of conduct we make no compromises on our core values which are captured in our motto " at the heart of solar "
Our capability to provide Mono and Polycrystalline solar panels produced in state of the art manufacturing facilities both in Asia and Europe enables us to offer integrated solutions that fully meet our partners' requirements. Additionally, our collaboration with leading logistics and transportation companies ensures that Aventia solar panels are delivered throughout the world in a timely and reliable manner.
Our vision
Based on sound and broad financial foundations, and more than 25 years of successful market presence, our vision and approach is encapsulated in the following statement:
We aim to contribute create a greener world and be recognized as a reliable and solid business partner in the world solar market.

 

 
OUR DISTINGUISHED ADVANTAGE GUARANTEES 
Quality Products: we will ensure the highest quality on monocrystalline and polycrystalline photovoltaic panels, through continuous quality controls and a fully automated production line.
Competitive Prices: we are determined in preserving our products' prices in highly competitive standards.
Exceptional Partner & After-Sales Service: we believe in partners not customers and we will be supporting them in every step of our
Our commitment
Building and maintaining long-lasting professional relationships based on trust and honesty is one of our business cornerstones.  We are committed to providing our partners with on-going support and expertise through the highest professional standards.
 Our bedrock belief is that we have to earn their trust every day by behaving ethically, communicating honestly, and holding ourselves accountable for the decisions we make and actions we take.
Our products
 Aventia is manufacturing and supplying a full range of both monocrystalline and polycrystalline solar panels covering a broad spectrum of applications, from commercial to residential.
 All our products are:
Μanufactured with A grade cells in fully automated facilities. Being thoroughly tested ensuring the highest possible quality. With guaranteed positive tolerance.
Fully certified according to TUV, IEC, CE and MCS.
 Backed up by the Aventia warranty that has been shaped to provide transparent  terms and conditions, having as a single purpose to ensure and preserve long-lasting satisfaction for our partners, and a team of experts ready to provide technical support and accurate answers to their questions.
Automated manufacturing facilities 
Aventia solar panels undergo several major inspection procedures during production including:
 3 times Electroluminescence  testing to ensure end product without micro-cracks.
 3 times appearance inspection to ensure no defects during production.
1 time power testing and inspection to ensure expected power output is being delivered from each and every solar panel.
 This way we are able to guarantee reliable products, perfect appearance and positive power performance.
CERTUS MONO
 The Eye-catching high efficiency monocrystalline full black module from Aventia
 220 - 320Wp.
IEC61730 safety rated for high wind pressure, hail impact, snow load and fire.
Positive tolerance of -0/+5%.
High efficiency crystalline solar cells up to 19.29%, producing maximum power even under low light conditions.
High module conversion efficiency of up to 17.4%.
Highly transparent, low-iron, tempered glass and
anti-reflective coating with transmittance of 94% that increases energy yield.
Use of high quality EVA with transmission of more than 80% as opposed to less than 30% of regular black panels ensuring higher power output and longevity.
Integrated bypass diodes to protect the solar cell circuit from hot-spots during partial shading.
Anodized aluminium frame improves load resistance capabilities for heavy wind loads.
Concealed busbars and solder give a more uniform finish and Eye-catching appearance.
65 – 315Wp.
15 years workmanship and product quality guarantee. Positive tolerance of -0/+5%.
Certified PID free.
AR coated 3.2mm tempered high transmission glass increases power output and mechanical strength of module.
Torsion and corrosion resistant anodized aluminum frame ensures reliable performance even through harsh weather conditions.
Lightweight with pre-drilled mounting holes for easy installation.
IP 67 rated junction box.
Snow load parameters at 5400 Pascal.
Extremely robust tested to withstand damage
from a steel ball of 227g falling from 1m with 60m/s .
AVENTIA SOLAR LTD
12 Monomatiou str. 136 77 Acharnes Greece
Overschietstraat 184 1062XK Amsterdam Netherlands
Datasheets DOWNLOAD /  ADATLAPOK LETÖLTÉS
ARGOS POLYCRYSTAL 290 - 310 Wp.
ARGOS POLYCRYSTAL 240 - 255 Wp.
ARGOS POLY HIGH EFF 260 - 275 Wp.
A Jüllich Glass polykristályos napelemek magyar gyártmányú napelemek.
A hazai gyártás biztosítja, hogy rendkívül magas legyen a minőségi kontroll.
Elülső felülete 4mm-es üvegből készül a jobb ellenállóság érdekében.
"A 60 darab magas hatásfokú cella hosszú távon biztosít magas energiahozamot. A szigorú minőségbiztosítási rendszerünk garantálja, hogy a Jüllich Glas® napelemek megfelelnek a legmagasabb követelményeknek is."
Legjobb minőség:
- számos ellenőrzési pont a gyártás során
Legjobb garanciális feltételek!
Főbb tulajdonságok:
- magas modul hatásfok (akár 15,7%)
- akár 5W-os pozitív teljesítménytolerancia
- erős és tartós almínium keret
- öntisztuló felület
- kiváló teljesítmény alacsony megvilágítás mellett is
- magas energiahozam éveken keresztül
Garancia:
- 10 éves garancia a felhasznált anyagokra és az összeszerelésre
- 15 éves garancia a 90% feletti teljesítményre
- 25 éves garancia a 80% feletti teljesítményre
Kapcsolódó minősítések:    
- IEC 61215 : 2005
- EN 61730-1 / EN 61730-2 : 2007
- ISO9001 : 2008
- ISO14001 : 2004
Legnépszerűbb típus a 260 Wp-es polykristályos modul.
Adatlap letölthető itt: Jüllich Glass 260 Wp. napelem adatlap és tájékoztató
Elektromos jellemzők:
STC

JGS-235P

JGS-240P

JGS-245P

JGS-250P

JGS-255P

Névleges teljesítmény (Pmax)

235W

240W

245W

250W

255W

Munkaponti feszültség (Vmp)

29,4 V

29,4 V

29,6 V

29,8 V

30,0 V

Munkaponti áramerősség (Imp)

8,0 A

8,2 A

8,28 A

8,39 A

8,5 A

Üresjárati feszültség (Voc)

37,3 V

37,4 V

37,5 V

37,6 V

37,7 V

Rövidzárási áramerősség (Isc)

8,75 A

8,8 A

8,82 A

8,86 A

8,89 A

Modul hatásfok

14,61 %

14,84 %

15,15 %

15,45 %

15,76 %

Működési hőmérsékleti tartomány

-40 °C - +85 °C

Maximális rendszerfeszültség

1000 V (IEC)

Termék besorolás

Class A

Teljesítménytolerancia

0 - +5 W
A mérési adatok a szabványban előírt feltételek mellett készültek (STC): 1000W/m2 besugárzási intenzitás, AM 1.5, 25 °C
Technikai leírás:
| | |
| --- | --- |
| Napelem cella típusa | Polikristályos 156 x 156 mm, 2 vagy 3 BB |
| Cellák elrendezése | 60 (6 x 10) |
| Modul mérete | 1645 x 995 x 35 mm |
| Súly | 21 kg |
| Front felület | 4 mm-es alacsony vastartalmú, prizmatikus edzett üveg |
| Keret anyaga | Eloxált alumínium |
| J-BOX | Multicontact csatlakozó doboz 3 bypass diódával |
| Csatlakozó kábel | 4 mm2 Multicontact solar kábel, 1000 mm |
| Csatlakozók | Multicontact MC4 |
Hőmérsékleti tényezők
Pmax
-0,41%/°C
Voc
-121,2 mV/°C
Isc
4,7 mA/°C
Cellák normál működési hőmérséklete
45 ± 2°C

 
200 W/m2
400 W/m2
600 W/m2
800 W/m2
1000 W/m2
Solarpeace (Solarfennel) koreai napelemek: 5 Wp-től 320 Wp teljesítménnyel!
A Solarpeace napelemek (USA piacon Solarfennel márkanéven) megbízható, koreai napelemek. A panelek rendkívül erős 45-50 mm-es aluminium kerettel készülnek, így rendkívül ellenállóak a szállítás, telepítés, majd később az időjárás hatásaival szemben!
Monokrisályos és polykristályos kivitelben egyaránt készülnek. A nagy volumenű gyártásnak köszönhetően az áruk tartósan akciós !
Általában a 280 Wps, vagy nagyobb paneleket forgalmazzuk, mert ezek a leggazdaságosabb cikkek!
Napkövető napelemes rendszer rögzítéstechnika
Az ASTRASUN napkövető technológia 1, vagy 2 tengelyes kivitelben készül. Az elérhető hatásfok növelés kb. 20, illetve 38 % !
A napkövető rendszerek anyaga galvanizált acél, vezérlése pedig igény szerint szenzoros, vagy idő vezérelt lehet.
A talajhoz való rögzítés esetében gyártunk beton alapú, vagy csavarozott / cölöpözött rendszereket: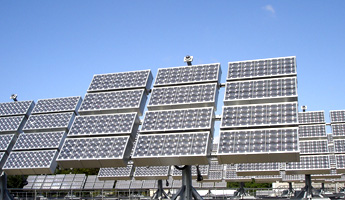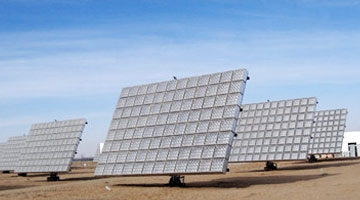 A napkövető rendszereket lehetséges háztetőre, vagy ipari egyéb környezetbe is telepíteni:
A háztetős telepítés minden esetben szélterv, statikai elemzés előzi meg!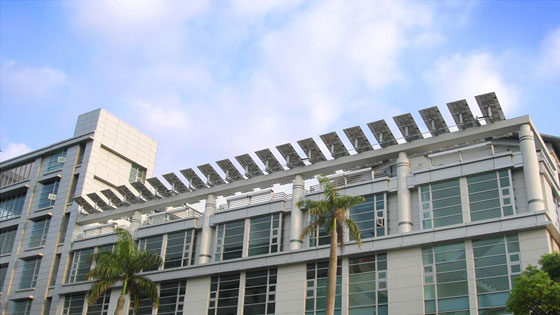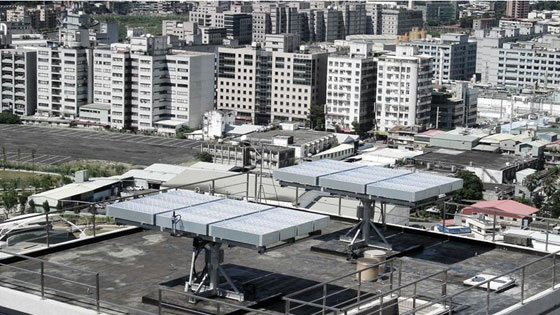 Atetőhöz való rögzítés fém / beton kombinációval oldjuk meg.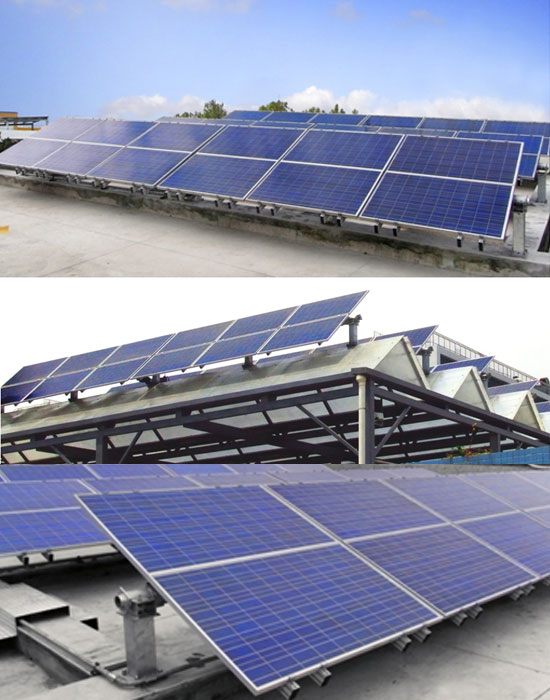 Műszaki adatok:
Standard Model

H Series

HT20 Series

Std. Panel Area *

38 ㎡

32 ㎡

Estimate Output **

3~7kWp

3~6kWp

Module Weigh

600kg

600kg

Rack(Module excl.)

200~350kg

250~500kg

Tracking Mode

Pre-program Track (Calendoric)

Bracket Material

Galvanized Steel + Aluminium frame

E-W Rotation angle

±45 Degree

Tilt Angle

0 Degree

20 Degree

Over-Protection

Software:Limit setting / Hardware:Limit Switch

Wind Resistance

160~180 Km/hr (@ Stow Position)

Warrantee

18 Std,Rack structure 10 years
* Connected type is also available upon request. Several sets of tracker can be powered by a single actuator.
* Depends on the module mounted.
Dual-Axis Tracker
Dual axis tracker can be used to mount PV & CPV modules.
PV Module in general requires less accurate light-source, typically within 10 degree range, where as the higher efficiency HCPV modules requires 0.5 ~ 1 degree of accuracy depends on the design. Our systems make use of light-sensor tracking + historic tracking (auxiliary); when light source is unstable.
DAT is expected to increase output efficiency by 25- 45% . Our GST 400 series for example can produce up to14kw with tracking precision within 0.2°.
Model

400

300

200

Max. Aperture Area

52 ㎡

22 ㎡

6 ㎡

Estimate OP Power

7~10kWp

3~5kWp

1kWp

Total module weight

1500kg

760kg

180kg

Bracket weight(exc above module)

2000kg

500kg

200kg

Tracking Method

Hybrid (Light sensor as main,historic track as auxillary)

Bracket Material

Galvanized steel;Aluminum rail

Tracking Accuracy

≦0.2° (Using Green Mountain Device, generally ≦0.1° under good weather condition)

Azimuth Angle Range

270° / 450°

Tilting Angle Range

-5° ~ 80°

Protection

Software:Limit setting / Hardware:Limit Switch

Anti-Gale Wind

Setting depends on site location(Using condition once every 50 yrs as standard)

Warrantee Period

Actuator & Transmission 18 Month,Tracking Structure 5 Years
Most éri meg napelemekbe fektetni!
Ugye Ön is kíváncsi, mennyibe kerülne és milyen gyorsan térülne meg napkollektorok létesítése? Kérje ajánlatunkat minden kötelezettség nélkül, szakértő kollégáink fogja Önt keresni!